If These Shoes Could Talk: The Awakening
by Jahzara the Savvy Diva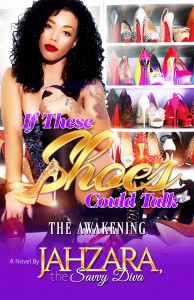 Dylan Jones, a 20 year-old petite chick, makes the heads of any straight man turn when she sashays quickly in her mini skirts and stilettos. Her long curly hair compliments her caramel complexion almond-shaped face. Often a victim of her own destruction, Dylan is often seeking strategies to create the perfect plot to rid her life of the crazy, sexy, cool, dysfunction that fuels her bad girl gone worse image.
Order your copy today!
$14.95
Underground Chronicles: The Payment  
by David Baldwin
Midwest Book Review (Oregon, WI USA) | James A. Cox, Editor-in-Chief
Underground Chronicles: The Payment by David Baldwin is an inspirational depiction of a young man's exploration of life as he engages in the lifestyle of hard drugs, blow out parties, illicit dealing, and predatory women. Facing two ultimate paths for life's future pursuit, one in essence of his appreciation of history and politics, and one more inclined toward eventual domination of local "underground fraternity" that is his darker, more destructive side. Very strongly recommended to all general fiction readers. The Payment is an engaging and enthralling tale sure to interest mature readers of this tautly written novel from first page to last.
 $10.00
Savvy Diva's Take On…
44 Days of Random Thoughts & Observations!
by Jahzara, the Savvy Diva
Savvy Diva's Take On…44 Days of Random Thoughts & Observations, by Jahzara is a witty read that will have you laughing and crying with Jahzara as she breathes life into everyday situations; revealing her wacky perspective on family, friendships, love and relationships. Jahzara's take on life and everything in between will bring out the hidden emotions in everyone from a deep place of universal relevance.
 $12.00
All Sales are Final.
Please refer to our Refund / Return Policy!